5 Tips on How to Build Quality B2B Leads for your Business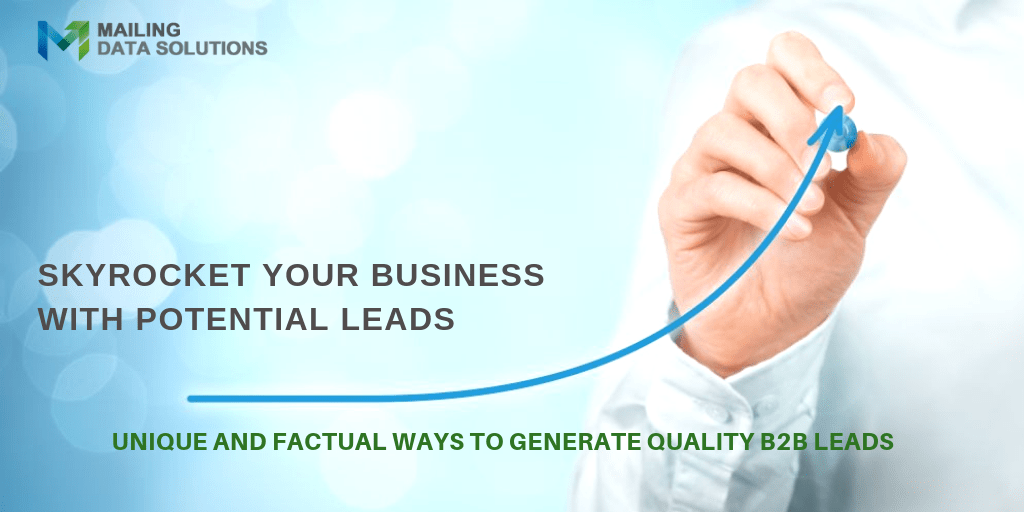 Let's dive in to understand the process of generating quality b2b leads which will eventually help you gain your business objectives i.e. "Sales-Conversion". As it is said in marketing "Quality is preferred over Quantity". So for any business, it's vital they focus on creating and nurturing quality leads/sales qualified leads/sales-ready leads. This can be achieved first by understanding the buyer's journey and the buyer's persona.
Buyer's Journey is made up of three levels
Awareness: At this stage buyers start to recognize that they have a problem or a requirement, but they are unaware of the fact that your company or product exists that could solve their problems and satisfy their needs. This stage is further divided in to three levels. Identifying Need, Research, Prioritize Criteria. We will understand this later in detail with example.
Consideration: At this stage buyers understand their problem and are looking out for available solutions to consider. At this stage, they are more likely compared with some of your competitors too.
Decision: At this stage, buyers have decided and are ready to purchase a product or service.
Let's understand each stage of B2B buyer journey with an example
Awareness
Identifying Need: A Database service provider company has realized that they have gone out of space with their data storage servers and looking to upgrade data storage servers, back up blog and cloud storage. However, they are not aware that your company exists that may help them overcome their problem.
Research: At this stage, they are researching for the best solution and at this point, more than 80% to 90% of customers turn to Google. Google search engine is the place where you need to create awareness about the solution to the customer's problem. This can be achieved through Search Engine Optimization (SEO), Google Ad Words by using relevant keywords.
Prioritize Criteria: Your ideal customers do further research and exclude vendors that do not meet their needs. At this stage of the B2B buyer's journey, you'll need more than one advertisement or conversation to shift them to the next level in the B2B buyer's journey.
The B2B awareness stage is a good opportunity to establish customer trust in your brand and products.
Consideration
During the consideration stage, your ideal customers have narrowed down their options to one or two and again they turn up to Google for further research for comparison between your company and other competitors.
At this point in the B2B buyer's journey, your ideal customers reach out to the sales representatives through call or face to face meetings for further clarification, product demos, and personalized services.
Decision
Your ideal customer at this stage has completed all the research and is ready to select a vendor to make a purchase. This stage of b2b buyer's journey is the ongoing process for the B2B consumers; though they made a purchase, it does not guarantee satisfaction. The purchase is continuously in the review. It is important to delight your B2B customers even after their initial purchase.
A happy and satisfied customer can become a valuable marketing resource for your company – a customer evangelist. They will give positive testimonials, recommendations about the product, service and your company.
Buyer's Persona
A buyer persona is a representation of your ideal prospects. It's based on your profound market research, authentic data about your existing prospects, and a few assumptions. It helps you to understand and relate to the audience that you want to promote your business to.
Now keeping both buyer's persona and buyer's journey in mind depending on your business you can narrow down your ideal prospects and it would be easier for you to promote your product and services catering to your defined customers needs, creating interesting content to engage them to your business, this lets any businesses get a quality sales qualified leads for the businesses.
We cannot get quality b2b leads just by understanding the above-mentioned buyer's persona and buyer's journey, it doesn't end here. It can be achieved by using the right channel as a b2b lead generation strategy. According to a recent study, we can consider SEO, Email, Social Media channels as the best source for b2b quality leads.
Let us understand the online b2b lead generation strategies that consistently come out at the top
Email Marketing
Email marketing is the most efficient, effective and the oldest marketing channel and it still tops on many B2B marketers lead generation strategies. As per Vital Design report,
Every $1 spent, the average return is $44.25 on email marketing investment
77% of prospects prefer to receive permission-based marketing communications via email
72% of B2B buyers are likely to share useful content through email
As we understood the buyer's persona above, we can apply that data, start nurturing by creating a customized, engaging and personalized contents and reach out to the intended prospect's inbox immediately and eventually converting them as your quality leads. If your targeted audience receives them, there is also a good opportunity for your business as they will start sharing some of your good content via email with other people in their circle which in turn can get you the more quality leads than expected and thereby sales conversion.
Search Marketing
Search engines are one of the best ways of marketing any product and services. As we all know that today people straight away jump on to the search engines to search for any information they needed and Google is the No.1 search engine in the world. People coming through the search engines can be considered as to be best leads as they are proactively looking for their needs to be fulfilled and hence it is very much important to be available right in front of the searchers eye i.e., the first page of the Google's search engine result page and that can be achieved in two ways as below.
SEO-Search Engine Optimization (Organic Results): If you are good with SEO, you can gain new customers quickly and moreover for free. SEO requires the best content marketing strategy that provides information that your intended prospects will find value in, but bear in mind SEO is a slow process and you can't expect faster result but you can find your customer's for free.
PPC-Pay Per Click (Paid Results): Unlike SEO this is the paid version of search engine marketing and the quickest ways to get results faster. It will be effective if you already know who your intended audience is, but bear in mind it can also be very expensive depending on the industry you're in.
Social Media
Social media allows a more targeted approach. It gives businesses and brands a way to engage with their potential prospects. One of the most effective social media channels for B2B lead generation is LinkedIn as it has topped as the most used social media platform for B2B lead generation. Using LinkedIn as a marketing channel for acquiring quality b2b leads helps in engaging a group of professionals to drive desirable actions that are most relevant to your business. As per LinkedIn 610M PROFESSIONALS are on LinkedIn, 4 of 5 MEMBERS drive business decisions, #1 PLATFORM for lead generation.
Social media advertising is very effective, it's very rare today who don't have a Facebook, Twitter, or Instagram account. Ads on these sites are highly targeted because you can target your intended audience based on their location, age, gender, and interests among many others.
Content Marketing
As said in marketing "Content is the King" and you must have also noticed that all through this we have been talking about interesting, engaging, personalized content only. That's because audiences get connects to the content, not to the businesses and hence it is very much necessary you deliver content as nice as you can and as consistently as you can as this is the only way to trigger interest in your audience and make them to take a desirable action relevant to your business. Content could be in various forms. Audio, Video, Blog Post, Images, Quiz Q&A, Infographics etc..!!!
Few Useful Tips
Here are a few points with which you can get your valuable leads quickly.

Create a fear of missing out (FOMO), for example; the Last day to apply for the position, few hours left to avail the best discounts, etc..!!!
Create Lead Magnets, for example; giving away something useful like (EBooks, training materials, etc) depending on your business to your audience in exchange for their contact information.
Create Referral Programs, for example; like refer a friend and get cash back or get 2 taxi rides for free or get free movie tickets.
All these above tips are just examples and need to be applied accordingly depending on your business.
Final Conclusion
Having a quality b2b leads is very much important for your business to grow. To achieve your business objectives focus always on the best content, do not compromise on content. Remember "Content is the King".
Serving more than 800+ companies in 40+ countries












Ready to get started?
Claim your FREE All Access Pass to check the Quality of the Data Before you Purchase.